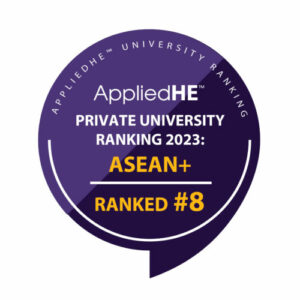 Asia Metropolitan University (AMU) recently achieved a significant milestone in its pursuit of excellence in higher education. The university has been ranked 8th on the AppliedHE Private University Ranking for ASEAN+, which is a reputable ranking system evaluating higher education institutions based on a range of criteria, including academic reputation, research output, and student experience.
This achievement is a testament to AMU's commitment to providing quality education and producing graduates who are equipped with the skills and knowledge necessary to excel in their chosen careers. The university has always placed a strong emphasis on academic excellence, and this has been reflected in the recognition it has received from the AppliedHE ranking system.
The AppliedHE Private University Ranking for ASEAN+ is one of the most comprehensive and trusted ranking systems for higher education institutions in the region. It is designed to provide valuable insights into the quality of education and research produced by private universities in the ASEAN+ region. The ranking system considers a range of factors.
AMU's achievement of being ranked 8th on this prestigious ranking system is a testament to the hard work and dedication of its faculty, staff, and students. The university has always been committed to providing an excellent learning environment that promotes academic and personal growth. The recognition from the AppliedHE Private University Ranking is a validation of this commitment and a reflection of the university's academic excellence.
AMU offers a wide range of undergraduate and postgraduate programmes across various disciplines, including medicine, dentistry, pharmacy, nursing, physiotherapy, and business. The university's programmes are designed to equip students with the knowledge and skills necessary to succeed in their chosen careers. In addition, AMU is known for its innovative teaching methods, state-of-the-art facilities, and industry partnerships, which provide students with a practical and hands-on learning experience.